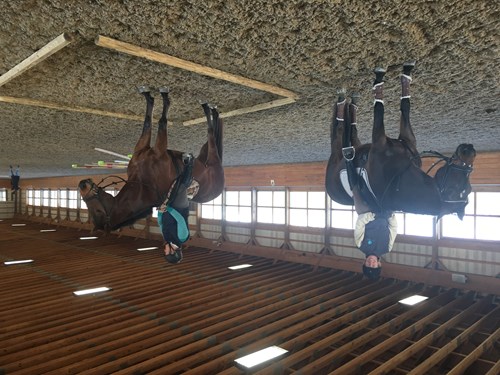 Winter Adult Camp at Sprieser Sporthorse 2 - Cross Training

2/27/2021 − 2/28/2021
eWaiver Link(s)

Organizer:

Karrigan Norris

karrigan@spriesersporthorse.com

Back by popular demand! Get inspired this winter with two days of lessons, safe socializing and FUN! at beautiful Sprieser Sporthorse, Marshall VA. Taught by Assistant Dressage Trainer Karrigan Norris, USDF Silver & Bronze Medalist, and guest Eventing Trainer Caiti Kuczynski, FEI eventing trainer, riders will combine private lessons with group cavaletti sessions for a weekend of fantastic learning!
Start Saturday morning with a private lesson, followed by catered lunch and a lecture, and then a group cavaletti session in the afternoon. Sunday, enjoy another private lesson. These are great fun, open to all ages, levels and English disciplines! We will help you develop your dressage and eventing foundation for more fun, success and progress. NO JUMPING EXPERIENCE REQUIRED!
With COVID, we require masks at all times unless mounted, and appropriate social distancing endeavors. Lunch will be a sandwich tray or soup, served in a safety-conscious way; if you're uncomfortable with that, please plan on bringing your own meals.
Questions? Email karrigan@spriesersporthorse.com. We look forward to having you!
Our camps typically sell out, so sign up fast! Unfortunately we cannot hold reservations without payment. Thank you!
Organizer Notes
Trailering with another rider? Let us know so we can stable and schedule you together!
Optional Extra Stall Friday Night
$40.00
Administrative Information
Ride Time:

Times will be sent out via email.

Trailer Direction: From I-66
• Take the VA-55 E exit- EXIT 27- toward VA-647 / MARSHALL
• At top of exit, turn left and go back across the Interstate if you've come from the East; if you've come from the West, turn right.  Take the first RIGHT turn, which is VA-647, CREST HILL ROAD.
• Follow CREST HILL ROAD approximately 5 miles.
• Turn LEFT onto WILSON RD and go approximately 2 miles.
• Turn RIGHT onto CONDE RD and go 1.3 miles.
• Turn LEFT onto OLINGER RD.
• SPRIESER SPORTHORSE will be down the road 0.8 miles on your right – 6782 OLINGER ROAD.From Warrenton
• Take FROST AVENUE west (away from town) and turn RIGHT on VAN ROIJEN, which is about 0.3 miles from the intersection of Frost and 17/29.
• Go 0.1 miles and turn LEFT on OLD WATERLOO RD (VA-678).
• Follow OLD WATERLOO (do NOT turn onto Lower Waterloo), – which curves right to become WILSON RD –  for 9.1 miles, and turn left onto CONDE ROAD (VA-764).
• Follow CONDE 1.3 miles and turn LEFT onto OLINGER ROAD.
• SPRIESER SPORTHORSE will be down the road 0.8 miles on your right – 6782 OLINGER ROADFrom Culpeper
• Take VA-229 / RIXEYVILLE RD to LEE HWY / US-211 E – turn RIGHT (EAST)
• After 1.5 miles, turn LEFT onto LEEDS MANOR RD and then RIGHT onto OLD WATERLOO RD.
• Follow OLD WATERLOO RD 2 miles to WILSON RD – turn LEFT onto WILSON RD
• Follow WILSON RD 5 miles to CONDE RD – turn left onto CONDE RD and go 1.3 miles.
• Turn LEFT onto OLINGER RD.
• SPRIESER SPORTHORSE will be down the road 0.8 miles on your right – 6782 OLINGER ROAD
Change Policy:

Changes are not permitted.

Refund Policy:

No refunds.

Entry Option(s) Secure Spot: Pay in full via STRIDER